25 Effective Strategies to Run Ecommerce Websites Successfully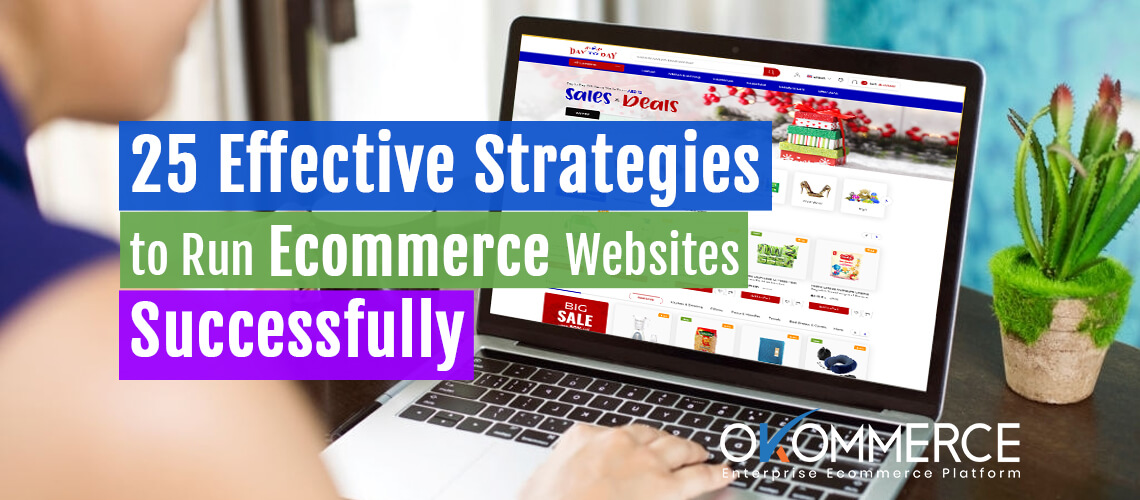 Ecommerce is evolving every day and you have to keep pace with new trends to outperform your competitors. There might be needs for new changes now and then but the strategies of running an ecommerce website successfully remain the same. These best practices build the foundation of an ecommerce business by providing visitors with a pleasant user experience, gaining their trust, and persuading them to buy something. You're left with no choice but to make use of the following techniques to improve your ecommerce business. 
1. Create a Clutter-Free Website with Simple Navigation

A simple and intuitive navigation system contributes greatly to reduce bounce rates and increase conversions. If you fill your homepage and product pages with too much unnecessary information and media files, visitors will find it difficult to make a buying decision. Keep the website clutter-free and integrate a noticeable call-to-action button. This will motivate them to click on the CTAs.  
2. Emphasize the Need for Quality Hosting Service
The overall performance of a website depends on its hosting service quality. You need to store all your website files and data on a web hosting server. A premium quality hosting can increase loading speed to a great extent. With good website hosting, your sites will get enhanced security, better support, and an excellent backup facility. Websites equipped with secure hosting servers are less likely to go down and they also perform well as far as SEO is concerned. 
3. Add a Strong Value Proposition

A value proposition explains why people should buy from you. After visiting your website customers should know how your products can solve their problems and improve their situations. A convincing value proposition has the potential to give you an edge over your competitors. 
4. Write Precise and Engaging Product Descriptions
Everyone looks for credible information when they enter a website. For ecommerce websites, this is even more significant. Write precise product descriptions without unnecessary adjectives. Keep your descriptions short but informative. Make sure to use a friendly tone so that prospective customers can connect well with your content. Introduce the products creatively so that they interest visitors in purchasing. 
5. Use Visually Appealing Images

Professional photography is very important in ecommerce. People are naturally attracted to aesthetically pleasing things. Websites loaded with low-quality images will leave bad impressions on customers. Visitors will abandon your websites right away if they watch poor images. Besides, you can't sell a product if it doesn't look tidy in the stores.  
6. Equip with Video Demonstrations
Suppose you're selling a wristwatch that is waterproof and shock-resistant. People will believe you more if you make a video that shows the watch being soaked in water and scratched in a real-life environment. The same goes for other products too. Video demonstrations are a must for sophisticated items that need a bit of explanation. You can also show how to use a particular product through a short video. 
7. Ensure Mobile Responsiveness

More than 90% of people use the internet on mobile when they're on the go. And almost half of the total ecommerce sales come from mobile users. You simply can't succeed without implementing mobile-friendly designs. A high-quality enterprise ecommerce platform is usually scalable and can ensure mobile-friendliness for you. Keep your websites responsive to every device regardless of the operating systems and screen resolutions. 
8. Include a Search Bar with a Variety of Filters 
Most people visit an online store when they already have a purpose. So, you have to facilitate their search quest by providing an on-page site bar associated with a variety of filters. Allow users to search for products on the basis of colors, age groups, sizes, materials, and more. Thus, prospective customers can find products as per their needs without skimming through hundreds of irrelevant items. 
9. Detect Out-Of-Stock Products

I personally experienced issues related to stockout products. Once I chose a t-shirt and proceeded to the checkout process only to discover that that item is not available in stock. I felt really upset. I would have passed that item if I knew it was out of stock. To prevent your customers from feeling dejected, I suggest you identify out-of-stock products and inform buyers beforehand. 
10. Build on Your Visitors' Trust
Visitors try to figure out whether or not to believe an online store right after they land on it. You can add trust badges to draw their attention. A physical address and an active phone number can help you a lot in gaining their trust. A secure payment system is also important to reassure the customers about your authenticity. 
11. Integrate User Generated Content

Reviews, testimonials, Q&A sections, etc are popular forms of user-generated content for ecommerce. Customers want to hear from their fellow customers and take their feedback seriously. You can cash in on positive reviews to increase sales. Make sure you're providing quality service so that your customers rate you high. 
12. Use Breadcrumbs to Guide Customers
Breadcrumbs let users know where they are on a website. It keeps a track of the person's current position and he/she can navigate through it accordingly. Users can easily go back to the landing page using the path shown by breadcrumbs. Use breadcrumbs to facilitate their browsing journey. 
13. Offer Free & Convenient Shipping

Over 70% of online shoppers expect free shipping from ecommerce stores. Nothing is free. Someone has to pay something to the carriers. But, you should try to offer free delivery even by increasing the prices slightly. Try to adopt as many delivery methods as possible. A standard delivery option is two-day shipping. Buyers should get their products in hand within two business days.
14. Add a FAQ Section 
Even if you provide every piece of the necessary information on your website, customers will still have questions and confusion. Make a list of the probable frequently asked questions and give to-the-point answers to them. This will help visitors know that you care about their interests. 
15. State Your Warranty & Return Policy Clearly

Since people can't touch or feel your products online, they feel less confident about the promised quality. An effective warranty and return policy can remove their doubts. Offering a warranty implies that you're confident enough about the high quality of your products. Don't forget to convey these policies explicitly so that both of you can (seller and buyer)  be free from hassle if any issue arises. 
16. Simplify the Checkout Process
Most online shoppers hate to input a lot of personal information while buying a product. Keep the checkout process as simple as possible, requiring the minimum amount of information for a secure transaction. Allow customers to check out as a guest without having to register an account. But, you can encourage them to open an account that will help them buy things easily in the future. 
17. Accept Multiple Payment Options

People from all over the world and all walks of life are your buyers. So, you can't expect that every one of them has the same payment options available to them. Integrate as many payment options as you can including cards, cash, mobile financial services, digital wallet, and more. Multiple payment options can surely increase your sales. 
18. Make Use of the Best SEO Practices
What if you have an amazing website but people don't know about it! Search engine optimization is a must to help your sites rank on search engines. Only then you'll get organic traffic and visitors. A large number of these visitors may turn into customers. You should utilize the best search engine optimization strategies to successfully run an ecommerce website. 
19. Publish Informative Blogs Regularly

Not every visitor has buying intent. If your website is all about promoting and selling products, you will lose a substantial amount of visitors who might have bought something in near future. Besides, informative and helpful blogs are integral parts of search engine marketing. You can't impress Google without blogs. Keep publishing blogs regularly to make a strong presence in search engine result pages. 
20. Connect with Prospective Customers via Emails
The purpose of generating leads is to convert them into your customers. Email marketing is a proven way to reach prospective customers and inform them about different offers and products. Send emails to your customers regularly so that they don't miss out on any updates. 
21. Provide 24/7 Customer Services (if possible)
Online shopping is convenient because you are not confined to only business hours. Customers can make purchases at any time of the day. For this reason, they expect customer service to be available 24/7. That's quite tough if you don't have enough manpower. Live chat and quality enterprise ecommerce solutions can help business owners in this regard. You can introduce chatbots, social media accounts, phone numbers, and any other customer service channels. 
22. Optimize Your Website Loading Speed

If a website takes more than two seconds to load, it is considered a failure. The bounce rate is significantly high for slow-loading sites. Identify the problems and optimize them to increase the loading speed. High-quality hosting, fewer HTTP requests, and clutter-free programming files can contribute greatly to enhance the load speed of your website. Too many high-quality images also hamper website speed. Enable compression and try to use smaller images to optimize the speed. 
23. Create a Sense of Scarcity 
You need to think one step ahead of your customers if you want to succeed as an ecommerce business owner. Take over your customers' psychology by creating a notion of scarcity. You can use taglines such as "Only 10 products are available", "This is the last day of this super deal", "This offer ends tomorrow", and more. You can also display a countdown watch indicating the deadline. 
24. Conduct A/B Testing & Analyze the Results

I recommend you create at least two versions of your website and test them separately. Find out which format is working the best for you. Analyze the results carefully. Make necessary adjustments if needed. Finalize the version that has the potential to render more sales in the long run. 
25. Take Advantage of Thank You Pages/Receipts
Show your sincere gratitude whenever a visitor becomes a customer. Try to impress new customers so they return to shop more. Assure your customers about their orders and make them believe that you're going to deliver their products just on time. Besides, you can suggest to them personalized items based on their search history. Thank you pages are a great place to upsell and cross-sell. 
Running an ecommerce store is not a piece of cake. It takes a good deal of time, effort, and investment to build an ecommerce site successfully and earn significant profits from it. Although you may not be able to implement all these 25 best practices in your business, try to make use of them as much as you can. If you do so, you're likely to achieve your ecommerce business goals. 
Okommerce, an enterprise ecommerce platform that is designed to serve the needs of large-scale enterprises. if you are looking for a reliable, secure, and budget-friendly ecommerce platform, get Okommerce today.