8 Simple Steps to Writing a Proper Ecommerce Business Plan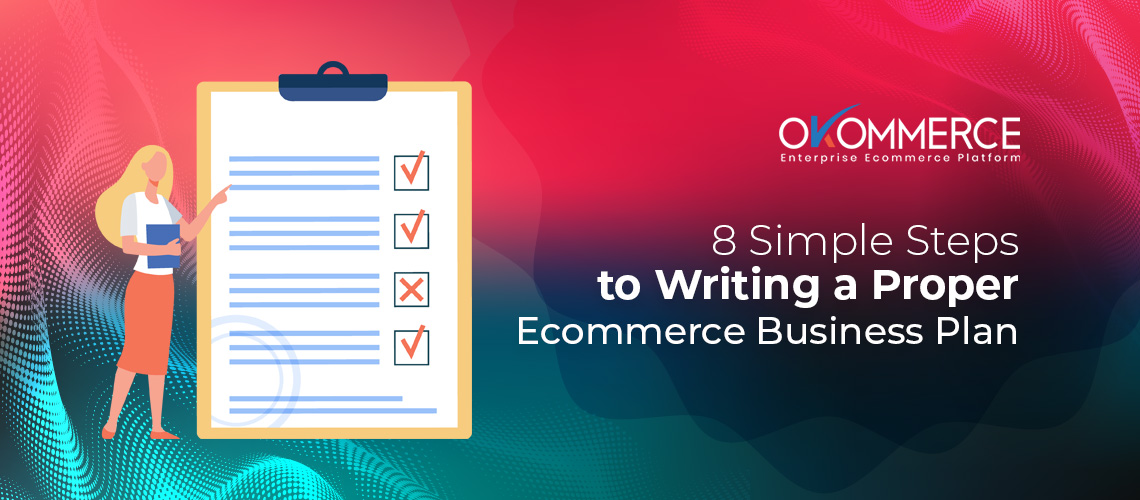 The first step to achieving your ecommerce business goal is to have a business idea. And you need to have a well-defined ecommerce business plan to turn your dream business into reality. So, think about your business plan, take your time to analyze existing examples, and conduct intensive research before crafting a great ecommerce business plan. Throughout this article, we've done the legwork for you and guided you through effective strategies for success in your ecommerce business. You'll know how to write a successful ecommerce business plan from the latter sections. Before that, let's know what an ecommerce business plan is and why your online store needs to have one. 
Definition of an Ecommerce Business Plan

A business plan refers to the roadmap that will determine where you want to see your business, and how you'll reach that point. A well-written business plan defines your business and products, predicts future growth, and sets realistic financial goals for you to attain. Even, it makes you aware of the potential drawbacks, multiple risk factors, and other contingencies that may hinder your success. A great business plan has clear explanations of important topics like expenses, cash flow, marketing tools, sales funnels, distribution channels, leadership, and staffing. Simply put, an ecommerce business plan is actually a document comprising the key details of a business. 
Importance of Writing a Business Plan 
A business plan is a blueprint that helps you come up with the right strategies to achieve your goals, confronting the obstacles that may intervene in your journey to success. It is important for many reasons. The major ones are as follows. 
Understand your business better
A business plan will help you to pinpoint the underlying problems and find out feasible solutions to them. You will get to know about the potentiality of your business and the probable threats while writing a business plan firsthand. Besides, a business plan can expose the flaws of your business ideas, allowing you to make necessary modifications. Hence, a business plan will help you gain a better understanding of your business. 
Know your available resources
You have a great business model in your mind, how will you implement these ideas?  Without enough resources, ideas will be considered intellectual property devoid of monetary value. You need financial resources to give life to your business. A business plan will help you determine the gap between the money you have and the money you need to invest. You'll also know about the quality and quantity of the human resources you have at your disposal and the logistics you can manage.  
Partner with interested investors
Very few entrepreneurs have the required money to run a business from scratch. They all depend on investors. You may also need monetary assistance from the investors. A proper business plan can help you ace big investments. How? Investors evaluate the business plan to determine the feasibility of a business. Once they find the business plan worthy of their money, they agree to fund it. 
How to Write a Proper Ecommerce Business Plan

Before delving into the complex process of writing a business plan, you need to have a clear understanding of five things. What products are you going to sell? Who is your target audience? How are you going to source your products? What are your business goals? When and how will you attain them? Once you know the answers to these questions, you're ready to proceed with your business plan writing activities. Start with writing an executive summary first. 
Executive Summary 
A good executive summary refers to a summary of each aspect of the business plan. You should write it after completing other sections of the business plan since it summarizes the remaining sections precisely and concisely. Importance of Writing a Business Plan 
Writing a one-page executive summary is the best practice, but you can go up to two pages if needed. An executive summary should consist of the following things. 
A brief introduction to your business
Business goals, mission, and vision
Unique selling proposition
People involved in the business
Definition of the target market
Well-defined monetization strategy
Realistic revenue projection 
Company Intro 
This section consists of the brand identity of your business. People will know who you are, what you sell, and what makes you unique by reading this company overview. Don't make this section unnecessarily long. Introduce your business to the audience by incorporating the following things. 
Company name
Type of proprietorship
Management team
Vision and mission statements
Background history
Description of products and services
Target customers
Competitive advantage
Short and long term goals
Market Observations
Choosing the right niche market will help you make significant profits and run a sustainable business. You need to understand your prospective customers' profile, current trends, strengths, weaknesses, opportunities, and threats that may affect your business. A SWOT analysis can add more value to your market analysis endeavors
Products and Services
Explain the products and services you offer clearly to the readers. Don't clutter this section with too many pieces of technical information. Keep it simple and easily understandable so that anyone can perceive the type of your products or services. In this section, you can offer the prices, show a comparative analysis of your products with that of competitors, and explain why people should buy your products or services. 
Marketing Plan
You need to drive traffic to your ecommerce site and turn the visitors into customers with a fool-proof marketing strategy. The customer acquisition cost should provide you with a positive return on investment. Only an effective marketing plan can help you do this. Include your marketing plan in the business plan addressing multiple paid and organic marketing channels. Make sure you have effective marketing and promotional strategies to reach your target customers and increase conversions. 
Financial Projections
The income statement, balance sheet, and cash flow statement are three key components of financial projections. The income statement informs about the sources of revenue and expenses during a set period of time. It can be monthly, weekly, or yearly. A balance sheet shows the equity level of your business keeping all your assets and liabilities side by side.  And cash flow statement is actually a real-time income statement, helping you to keep track of the money coming in and going out of your business. 
Logistics & Operations Plans
This part is very crucial as here you will have a glimpse of what logistics and support you need to operate your business successfully. Logistics and operations plans cover from manufacturing the products to shipping them to the customers' doorsteps. The realities of running an ecommerce business will strike you the first time in this phase. You need to add the following things to your logistics and operations plans. 
Suppliers/ sources of products
Production of products
Inventory management
Shipping and fulfillment
Disaster Preparedness
COVID-19 has taught us that we should always be ready to face disasters like this global pandemic. You must have a backup plan considering the unpredictable attack of natural and man-made disasters. Your business plan should have a clear-cut disaster recovery policy addressing emergencies like a flood, fire, data loss, and more. Describe your plans and ideas to deal with the worst possible scenarios.
Okommerce, an enterprise ecommerce platform that is designed to serve the needs of large-scale enterprises. If you are looking for a reliable, secure, and budget-friendly ecommerce platform, get Okommerce today.