Ecommerce Shipping & Fulfillment: 12 Useful Strategies for Beginners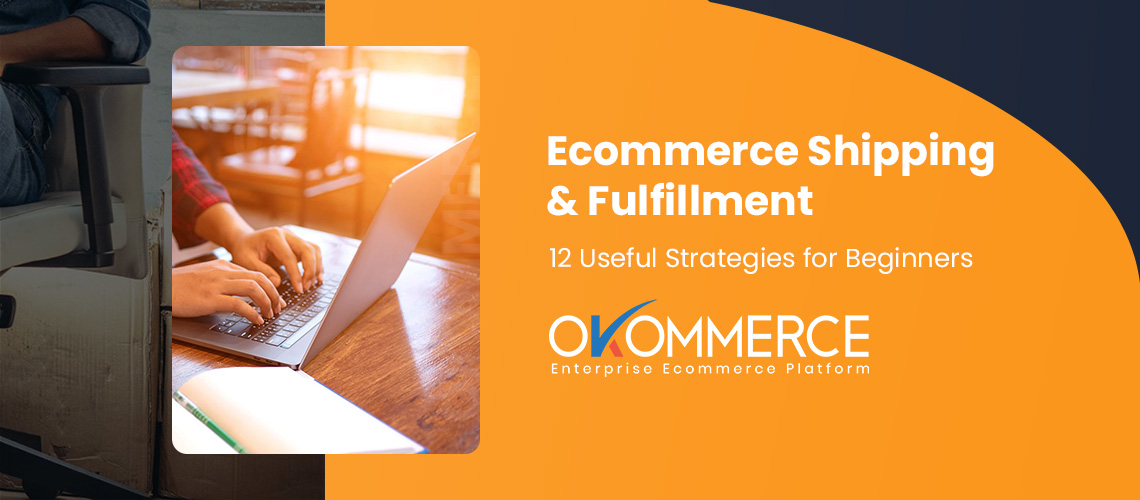 Did you know that over 60% of online shoppers leave their cart without placing an order if shipping costs are too high? 25% of customers tend to cancel an order due to slow delivery speed and 38% of them never shop again from an online store after experiencing poor delivery issues. What are your takeaways from all these numbers? It's extremely important to integrate competent shipping and fulfillment methods into your ecommerce to succeed as an online retailer. Abide by the instructions I've given throughout this article to increase sales and retain your customers. 
Relationship Between Ecommerce Fulfillment & Shipping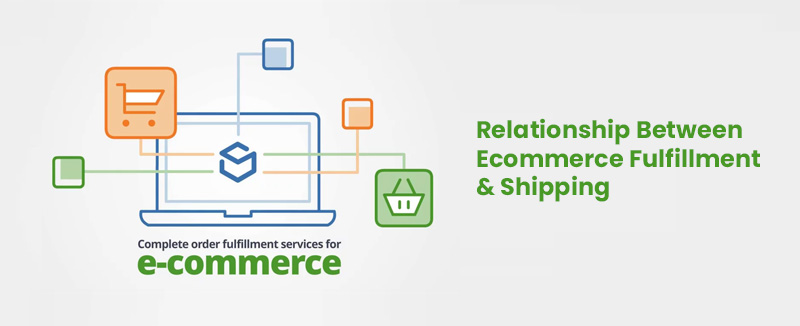 Ecommerce order fulfillment and shipping are two closely related factors. You have to receive orders, manage inventory, process orders, pick the right items, pack and label them, and finally ship the purchased products to the customers. So, you need to undergo a fulfillment process before you can deliver your products to customers' doorsteps. 
Not to forget, your shipping strategy needs to include product return processes too. It's quite obvious that ecommerce shipping and fulfillment complement each other. Keep your fulfillment process in line with your shipping strategy to maintain seamless sales in the ecommerce business. 
5 Ecommerce Fulfillment Strategies for Beginners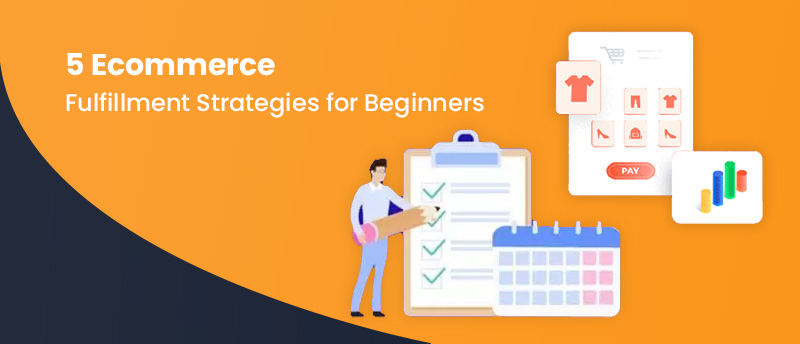 Your fulfillment strategies will depend on a few factors like order volume, product types, stock management, your business size, and more. Go through the following steps to learn how you can manage order fulfillment effectively even if you're new to ecommerce.  
1. Choose the Right Fulfillment Method

There are three major order fulfillment methods in ecommerce. You can choose either of them as per your needs. These three are as follows. 
Self-fulfillment: If an ecommerce company operates all the fulfillment activities within itself without engaging any third parties or dropshipping partners, it is referred to as self-order fulfillment aka in-house fulfillment. Self-fulfillment is feasible as long as you have enough time and money to manage inventory and package all the products on your own. As the business grows bigger, people start to involve third parties. 
Third-party (3PL) logistics companies: You can shoulder order fulfillment responsibilities on 3PL companies who will handle everything from processing orders to facilitating the shipping process. It's better to make use of third parties if you have to spend too much time packaging and shipping orders and face difficulties managing your warehouse. These companies have multiple fulfillment centers across different locations, necessary logistics, expert manpower, and practical experiences. 
Dropshipping: Dropshipping refers to the retail fulfillment method where retailers build partnerships with manufacturers/wholesalers to deliver products to their customers. Here, retailers don't have warehouses of their own; they just receive orders and forward them to their partner wholesalers/manufacturers. These partners produce, store, and ship the sold products to their shipping destinations. This means you can run an online store without having to own an inventory.
2. Focus on Locations
The efficiency of the order fulfillment process lies in early product delivery and low shipping cost. You need to optimize the fulfillment process considering the location of your customers. It will take less time If you deliver a product to Dubai from your fulfillment center in the UAE than that of your fulfillment center in the USA. Moreover, shipping costs increase when delivering to distant places. That's why it's important to establish more fulfillment centers around common shipping destinations. 
3. Integrate Software & Applications

You can add a new dimension to your ecommerce fulfillment system by integrating software, applications, and enterprise ecommerce solutions. These tools allow business owners to run their business seamlessly and manage orders and shipments efficiently. You can manage your sales, customer services, inventories, catalogs, and POS with a single enterprise ecommerce platform. 
4. Receive and Process Orders
You need to have a product in your inventory before you sell that. This is the first prerequisite of receiving an order. After receiving an order, forward that to your in-house fulfillment team or your inventory partners. Ensure that the required products are ready to be shipped within the estimated time frame. Pick the ordered items according to the product specifications as demanded by customers. Take careful note of the order details and make sure you're delivering products of the right materials, colors, and sizes. 
5. Package & Label Them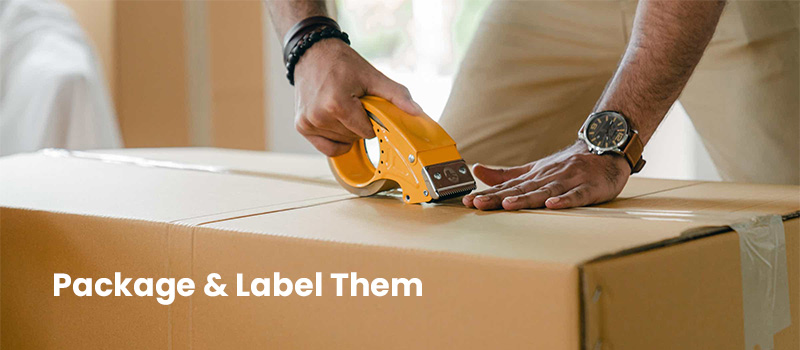 Packaging plays an important role to increase your brand value. It is an opportunity to showcase your creativity to the customers. A standard package benefits business owners in two ways. It keeps the products safe for transportation and conveys their brands' messages. You can use your branded packaging. Usually, third-party fulfillment partners don't provide customized packaging. Add necessary labels to your packages with both shipping address and return address. You can easily win customers' hearts by including a small gratitude note for purchasing from you. 
7 Things to Consider for a Successful Ecommerce Shipping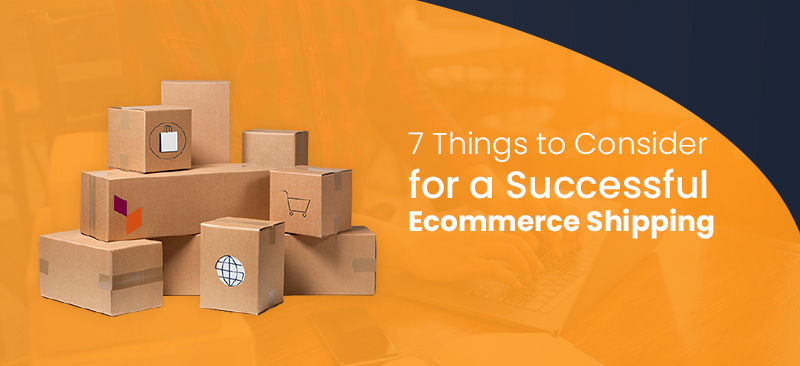 After processing the orders, it's time to deliver the sold items to their respective owners. A smooth delivery process includes many things as discussed below. 
1. Product Size & Weight
Shipping costs largely depend on the size and weight of products. Measure the size and weight and keep your customers updated about these pieces of information. Besides, different delivery companies charge differently. Inform your customers beforehand about the name of the carrier. Thus, they will have an idea why the delivery fee varies from product to product and carrier to carrier. 
2. Shipping Destinations

Precise shipping addresses are one of the most critical factors that affect the delivery process severely. A wrong shipping destination means you have to undergo a big hassle. However, shipping destinations are also a decisive factor when it comes to fixing delivery fees. If the destination is a distant place, the cost naturally increases. 
3. Different Shipping Options
The more shipping options you can offer, the more convenient it is for customers. A few of the most common shipping methods are listed below. 
2-day shipping: Two-day shipping has gained popularity among online shoppers for its cost-effectiveness and comparatively quick delivery. 
1-day delivery: Most customers are ready to pay more to get their products delivered on the same day as the purchase. You need to have strong coordination with every aspect of your business to successfully execute same-day delivery. Naturally, it will charge customers with more shipping costs. 
Overnight shipping: Overnight shipping refers to the delivery process when products are delivered to buyers on the next business day. 
Freight shipping: Freight shipping is the best option if any shipments accumulate 150 pounds weight and are larger in dimensions. These shipments are delivered through cargo via land, sea, or air. Freight shipping is mostly used to transport inventory from manufacturers/wholesalers to retailers. 
Shipping carriers: Choosing the best carrier is an important part of building your ecommerce shipping carriers. USPS, First Flight Couriers, DTDC, FedEx, Canada Post, UPS, DHL, etc. are a few most popular shipping carriers for ecommerce. 
4. Shipping Rates

It's important to use a standard rate structure to compete with this exponentially growing ecommerce business. Popular shipping rate options include the following.
Free shipping: Nothing comes free. You have to pay the carriers to deliver products to your customers. Still, free shipping is expected from every online store. You should offer it to attract customers. But, you have to manage the cost anyhow by selling products and making profits. Adjust the prices in a way so that it covers the delivery fees. 
Flat-rate shipping: Flat-rate shipping means charging the same for all products regardless of their types and sizes. This rate is feasible if you sell items of similar sizes and weights. Make sure that no one is overcharged or undercharged. 
Real-time carrier rates: This option is credible to the consumers as it comes with complete transparency. You can build a bridge between the customers and the carriers through your ecommerce platform. Customers will see the estimated delivery cost in real-time and pay the carrier directly according to their pricing strategy. 
5. Insurance & Tracking
While this is not mandatory, insurance and tracking can give you an edge over your competitors. It may cost you a little extra money, but you'll get protection if your products get damaged or lost on the route. You need to increase the prices to avail yourself of this facility. Nowadays, online shoppers want to know the current status of their products throughout the delivery course. You need to integrate a system so it can easily keep track of the delivery journey and inform the consumers. 
6. International Shipping

International shipping comes with some formalities including taxes, duties, export declaration, certificate of origins, and commercial invoice. You need to pay customs duties and tax, submit all documents properly, otherwise, the products will not cross the ports. It's your duty to inform your customers beforehand about the extra fees you need to complete the shipping process successfully.  
7. Product Return Policy
Your shipping strategy must comprise a return policy. Every ecommerce shop experiences this issue. You also need to be ready to accept return products and process them for further proceedings. Judge the item quality and return reasons then take actions as per your return policy. Craft the return policies in a way so that it doesn't bring you substantial losses.  
An effective order fulfillment process together with fast and low-cost shipping options will help you achieve your business growth goals. Make use of the strategies we have mentioned in this article to start an ecommerce business from scratch. With time, you'll surely learn to implement the best practices of ecommerce shipping and fulfillment in your business.
Okommerce is an enterprise ecommerce platform designed to serve the needs of large-scale enterprises. if you are looking for a reliable, secure, and budget-friendly ecommerce platform, get Okommerce today