What Factors Do You Need To Consider When Choosing an Ecommerce Platform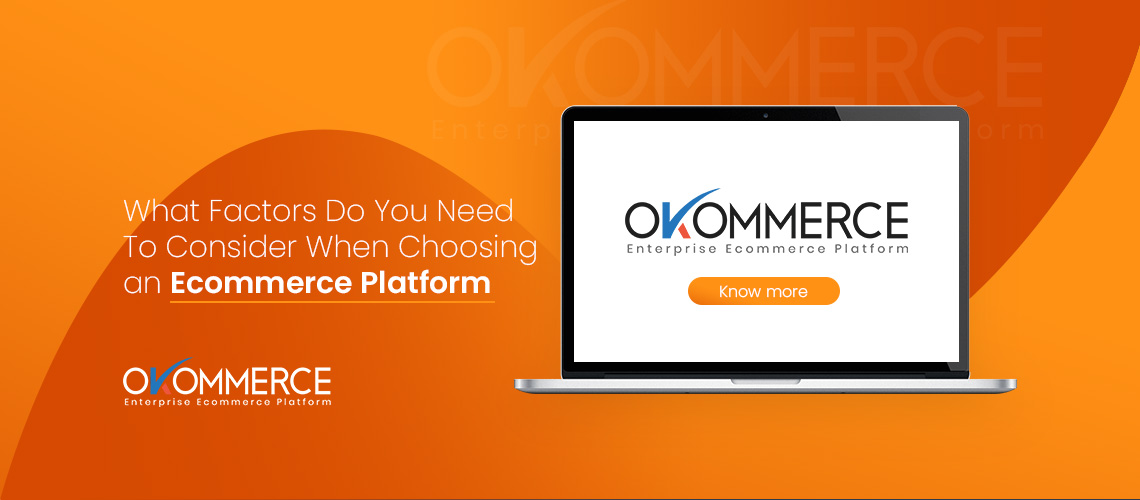 Trying to choose the best ecommerce platform for your business can be quite hard because of the vast variety of choices that are available in the market. And each of these choices are all great options as they offer awesome features. But what features do you have to look for in an ecommerce platform? This is what we will discuss in this article.
E-Commerce is defined as the process of electronically conducting commercial transactions over the internet. Perhaps more precisely, ecommerce is the purchasing or sale of something digitally. From online services and consultation, to tangible products, and digital items such as apps and ebooks, ecommerce exists anytime you order something digitally.

How do ecommerce platforms work?
An ecommerce platform is a software application that allows an enterprise or a business to sell online products and services.
Also the software helps a business manage its website, marketing, sales and other different operations. An ecommerce platform basically helps a business run smoothly and efficiently online.
Whether you've got a small online store, a big online business, a brick-and - mortar store, or you're an entrepreneur curious to see if you're earning some income, you'll benefit from using an ecommerce platform.
There's no scarcity of pre-packaged ecommerce platforms today that will help you build in no time a digital storefront. Many even allow you to support them without requiring much time , money, or brain power, which is great for the online store to focus on other important things.


Factors to consider when choosing an ecommerce platform

What should you look for in an ecommerce platform? Although there's an unlimited variety of ecommerce platforms to pick from, there are ways to narrow down the playing field for you. Nine key features to look for while searching for an ecommerce product are listed here:
1. Simple to set up store: Look for a simple to set up and quick to build platform. You want the opportunity to completely capture the look of your unique brand, then take a look at the various templates provided by each platform.
Templates are perfect because they don't need you to recruit support from outside (expensive!), and don't need you to be a design whiz to build a polished look and make a strong statement.
2. Simple to navigate, safe to use: Have you ever seen a website that is hard-to-navigate? The checkout is confusing and the layout is chaotic which makes it challenging to buy the item you like.
Today's online shoppers demand a smooth, fast and pain free experience. They itch to spend money but don't want to go through the hassle and make their shopping trip unpleasant.
And when it comes to handling payments, make sure that the ecommerce site you 're eyeing provides top-notch security. Look for a platform supporting HTTPS / SSL to ensure a stable and reliable checkout.
3. Seamless integrations: Getting so many options can sometimes seem like an immense source of confusion. But getting a multitude of options to choose from can be a nice bonus when it comes to integration for ecommerce platforms , especially if your organization is looking to expand.
Look for a platform that interacts with the other marketing channels and other established systems. Can Facebook integrate with it? Is the Ecommerce CRM distribution and marketing program working smoothly? Does Instagram work? Are there usable plugins and extensions?
4. SEO-friendly: It should be quick for customers to locate your organization while they are searching for a certain good or service, like what your store is offering. You want to make sure your online store ranks high in search results , especially if you're a new ecommerce shop or a small online store.
To do so, search for an SEO-friendly ecommerce platform — you can use your domain name, add your own blog, gather consumer reviews — all to help bring shoppers organically into your business.

5. Mobile-friendly: One pattern is abundantly obvious when it comes to how clients communicate with the e-commerce industry: mobile shopping has become the norm. Global smartphone shopping sales is expected to hit $3.56 billion (up $2.2 billion from 2017) by 2021, according to Statista.com.
And smartphones accounted for a record 65 percent of retail site visits, according to the first quarter findings of devices used while shopping in 2019.
While looking for an ecommerce platform make sure that it provides quick access to the website for consumers. The simpler it is for a consumer to engage with your company, the simpler it would be to make a sale.

6. Analytics: It's necessary to track the success of your online store via analytics. Look for an ecommerce platform that can help you keep track of all the important things — number of transactions, payment types, order quantities, and more — and view details in an easy-to - understand format. As an e-commerce company owner, the last thing you want is to play the game of guessing numbers.
7. Support: For an ecommerce owner, it may not be possible to know all the technical terms. For them, it might be a good idea to look for an ecommerce platform that offers a solid customer support team.
Your online shop is going to be fully digital, and if you're new to the scene, finding actual live people who can answer your questions pays off.
8. Payment options: If a product or service is not easy for your online consumers to pay for, how are you going to make your business profitable?
A few examples of common payment gateways for e-commerce stores include PayPal, Square, Apple Pay and Stripe. When looking for an e-commerce website, make sure to know what payment types you are ready to take.
9. Scalability: Will your eCommerce platform grow with you, as your business grows? The core center of your business is the eCommerce platform. A platform that's hard to scale will hamper your business growth.
10. Pricing: Some platforms offer standard monthly fees, others provide fixed pricing, some take a cut per transaction, and some e-commerce services still need extra software maintenance charges.
Do your research before you commit to a plan, evaluate the pros and cons, and adhere to your budget so that you have capacity to expand.

Considering all the factors that are listed above, Okommerce should be the perfect choice for you when it comes to choosing an eCommerce platform . It is an Enterprise Ecommerce Platform that is scalable, easy to set up, offers endless possibilities with API integrations, has a powerful admin panel, affordable, and perfect for any enterprise. It just ticks all the boxes. Most importantly, Okommerce is designed for the future. It will adapt to any changes that arises in the market or with devices,