What Is Dropshipping? How to Start a Dropshipping Business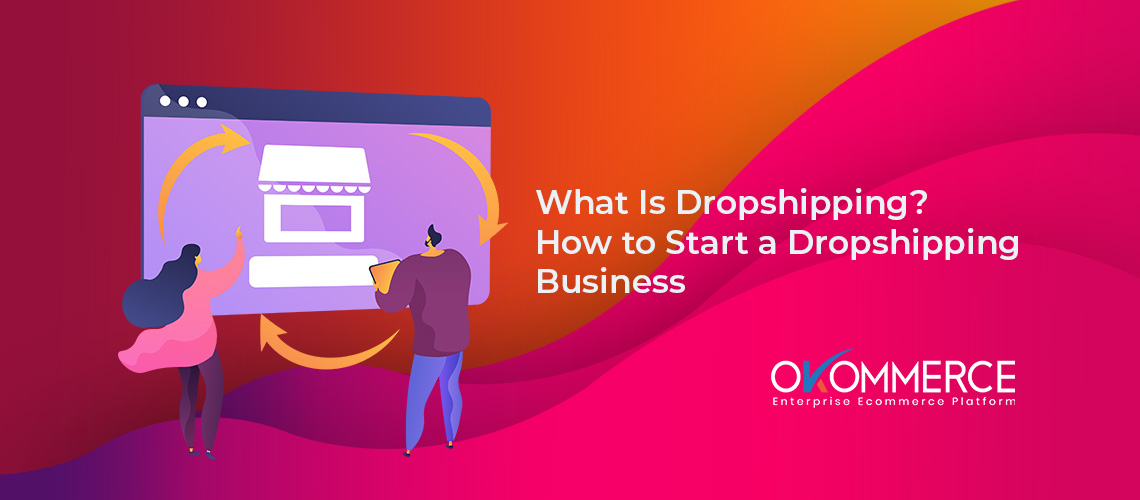 Dropshipping has become popular to entrepreneurs who want to start ecommerce businesses with limited resources. About 25% of global online sales are fulfilled via the dropshipping business model. And these numbers are growing fast. It's high time to know what is dropshipping if you're still unaware of that. Here, in this article, I will enlighten you with the merits and drawbacks of a dropshipping model and guide you to the right strategies for starting a successful dropshipping business. 
What Is Dropshipping? 

Dropshipping refers to the practice of running retail ecommerce businesses without keeping an inventory. Products are shipped to the doorsteps of customers directly from suppliers, manufacturers, distributors, wholesalers, etc. Dropshipping differs from the conventional retail business in its inventory management system. Online retailers don't keep the products in stock, rather they source their items from a third party, especially manufacturers and wholesalers. As a result, they reap the benefits of investing less money and enjoying more profits. This retail fulfillment process mainly involves four steps. The steps are as follows. 
Customers confirm an order from your ecommerce store.
Your retail store forwards the order to your partner suppliers.
Dropshipping suppliers receive the order and process it.
They make arrangements to ship the order to the right destination.
Benefits of Adopting a Dropshipping Business Model

Dropshipping comes with a pack of exciting benefits. It is the perfect business for aspiring entrepreneurs who are interested in online stores and have the vision to extend their ventures in the future. Start with less capital, let the profit accumulate to a huge amount, and come up with bigger projects. The key benefits of dropshipping are as such. 
Easy to Start with a Small Capital 
Dropshipping does not require a bunch of resources to see substantial success. The main advantage is that you don't need huge amounts of capital to invest in a warehouse, buying inventories. A handful of IT skills and basic business knowledge will do good enough to help you shine as an online retailer. Start an ecommerce store, keep your website up and running, receive orders, and get the products delivered to the customers through a third party. 
Convenient  to Expand
As you don't need to own a warehouse, it doesn't matter much whether or not you upgrade your ecommerce business to the next level. Dropshipping business is easily scalable. Just put more effort into marketing, promotion as you expand your business, the sales will increase automatically. All you need to do is maintain your ecommerce site timely, optimize it for SEO performance, and update the product pages to ensure a positive user experience. 
Low Overhead Expenses
You have to spend a lot of time and money to run a brick and mortar shop. Shop rents, utility bills, staff salaries, warehouse expenses, etc are a few recurring expenses related to maintaining physical stores. In dropshipping, you are relieved from all these expenses. Yes, you also need a team to maintain your website. Still, the overhead expenses are less when compared to physical stores. Low overhead cost and moderate profit together can provide you with more profits. 
Easily Manageable
Since you don't stock products, there's no real challenge of ensuring optimal quality of products during the entire storage process. You don't need to think about theft, damage, or other contingencies related to inventory management. Moreover, you can operate your business from anywhere in the world with a stable internet connection. As long as you're connected with your suppliers and customers, nothing is stopping you from running your business. These conveniences make dropshipping ecommerce businesses easily manageable. 
Flexible Career
Do you want to be your own boss and work as per your own schedule? Dropshipping is the solution for you. You can start dropshipping with minimal funds, using your laptop, and probably a few skilled freelancers or friends to keep the website functioning. Most importantly, there's no fixed time you have to fulfill as working hours. Keep your business running at your convenient time. Select your products from a myriad of options without breaking the bank. Enable automated services when you're on vacation. What more do you want from a flexible career? 
Disadvantages of Dropshipping 

Dropshipping has become very competitive. Since it does not require a good deal of investments to run a dropshipping retail business, more people are adopting this business model each day. You have to keep the prices low to offer a competitive price for the customers. That ultimately results in low-profit margins. The only way to make more money is to choose a niche with a winnable competition. 
Order processing sometimes gets difficult in dropshipping business. Suppose a customer ordered multiple items from you but you had to source those products from two different suppliers. They prefer two different careers. Eventually, your end customer has to pay double delivery fees and may find it difficult to deal with two shipping methods. 
Dropshipping lets you have less control over your business. Let me explain. You don't own the inventory. So, it's not possible to know which item is available in which amount. Besides, you will not be able to take customer orders. On top of that, you are entirely dependent on the promises of the suppliers for product replenishment, processing, and shipping. 
Challenging customer service, the uncertainty of timely shipping, and the dominance of suppliers are a few more drawbacks of dropshipping. Since you have less control and the suppliers are the dominant characters, any issues from their end will harm your reputation. Even, you have to take the blame for supplier errors. You can't serve customers well due to a lack of credible information. Your miseries will know no bound if the suppliers are not trustworthy. 
Your suppliers must be claiming they're running legal businesses, but do you know for sure? Even it's really tough to find out from where all his merchandise comes. Some suppliers use fake trademarks and deceive people. Since you'll never store your product, it is almost impossible to build a brand, maintaining brand consistency in packaging, logo, color palette, etc. You're just a representative of the suppliers. 
How to Start a Dropshipping Ecommerce Business

Select a Specific Niche 
You must have a few pre-determined ideas before starting a business. conduct market research encompassing all your ideas. Find out where your competition is moderate, and customer acquisition is comparatively easy. Try to select products aligning with the trends. Don't go for a wide variety of products at the beginning. Narrow down your options to only those items which are likely to sell well without a hard push from the marketing activities. 
Find Trustworthy Suppliers
Dropshippers entirely depend on the suppliers, manufacturers, or wholesalers. Your priority should be to choose a trustworthy supplier who will deliver quality products as promised, on time. Without timely delivery of quality products, you'll not sustain in the ecommerce business. The relationship between you and the suppliers is solely responsible for a seamless business.  
Build an Optimized Website
After building partnerships with manufacturers, it's time to build an ecommerce website that will actually work as your storefront. Your customers will know through this website. So, make it look as appealing as possible. Keep the design artistic and minimal with beautiful UI and UX designs. Optimize the product pages with required information and multimedia. Integrate a hassle-free checkout system equipped with multiple payment systems. Make sure the website is well optimized for SEO purposes and the load speed is less than 3 seconds. If you're planning to introduce thousands of products, build your website in an enterprise ecommerce platform. Plan for customer acquisition, once your website is ready. 
Adopt Customer Acquisition Strategy
Let your customers know that you have an amazing collection of products and effective shipping solutions waiting for them. SEO will help you drive traffic to your site organically. There are other marketing channels capable of attracting prospective customers. Facebook, Twitter, LinkedIn, Instagram, YouTube are a few popular social media websites that can guide users to your store. Besides, you can run paid ads on Google and Facebook for the best outputs. And, don't forget the old school marketing channel called ecommerce email marketing. All these sales funnels can combinedly increase sales and profits for you. 
Measure Your Results
Check for issues at regular intervals. Keep track of your ecommerce metrics. If you're not generating enough sales, review your strategies to find out the underlying reasons. Use analytics to get the numerical representation of your success. If those numbers are not satisfactory, you should rethink the whole dropshipping thing. Focus on achieving a positive ROI to achieve your business goals and sustain as an online store in the long run. You can run an A/B test on a few versions of your website to find out which version brings out the best results. 
Now that you know what dropshipping is, it's time to ignite the entrepreneurial entity that lives within you. Considering both the merits and demerits, we suggest you opt for drop shipping if you have a passion for the ecommerce business. Follow the above-mentioned steps minutely, you'll surely succeed as a dropshipper, you'll make profits, maybe not immediately but definitely.
Okommerce is an enterprise ecommerce platform designed to serve the needs of large-scale enterprises. if you are looking for a reliable, secure, and budget friendly ecommerce platform, get Okommerce today.