Possibilities With
OKOMMERCE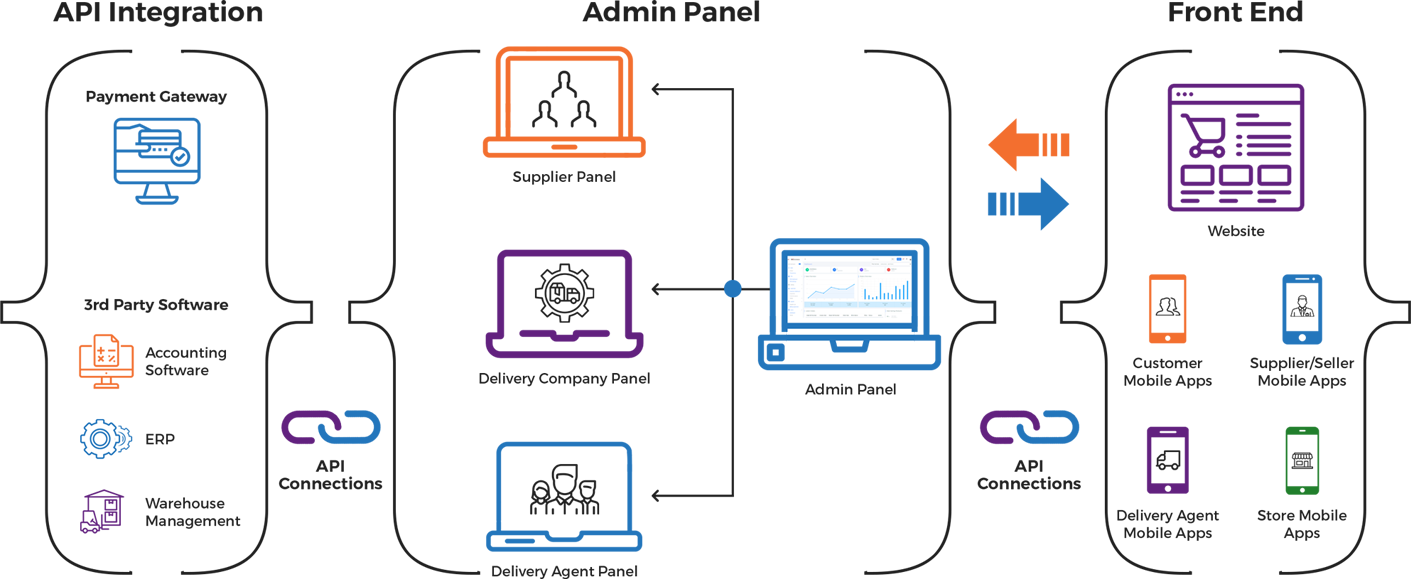 In a nutshell, the possibilities with OKOMMERCE are limitless. Seamless integration of APIs, a comprehensive and powerful admin panel and a fully customizable front end with a website and separate mobile apps for customers, suppliers, delivery agents, and store.
API Integration
OKOMMERCE is API driven which means you can integrate any API that you need. Whether it be a payment gateway, or third party softwares such as accounting softwares, ERP, or even warehouse management, OKOMMERCE has got you covered.
Run your Ecommerce platform with minimal internal management as the API integration takes care of the complex implementations.
Admin Panel
OKOMMERCE provides a powerful admin panel that allows separate management of suppliers, delivery agents, and delivery companies. The admin panel provides all the features required to manage your ecommerce store.
Update your supplier list, configure billing agreements, manage delivery companies and drivers, track delivery schedule, and other operations all from one robust admin panel.
Front End
The front end determines how a website looks and performs. With OKOMMERCE, get a great looking website with multiple design iterations that you can choose from. On top of that, there are four separate mobile apps for customer, supplier, delivery agent, and store.
With our elegant template designs, your ecommerce site will attract customers and provide a great shopping experience for them. Moreover you can do any kind of custom design in any programming language.
Enterprise Great

Ecommerce Platform
Enterprises are large companies that offer a large selection of products and services consisting of several departments. Any ecommerce platform will simply not suffice for these enterprise-grade companies. This is where OKOMMERCE steps in. It is an ecommerce platform catered for enterprises to manage their ecommerce business effortlessly and effectively.
OKOMMERCE allows managing multiple products of various categories in different stores in different locations for customers. Get easy API integration with other third party systems to improve the efficiency of your business. OKOMMERCE is very capable of scaling to meet the increasing traffic demands of your enterprise business
Multi in Every Aspect
OKOMMERCE is a multifaceted enterprise ecommerce platform that doesn't compromise in any way. Whether it be multiple stores, catalogs, currencies, price points, or languages, OKOMMERCE has got it all.
Multiple Stores
Add multiple stores each with unique features and characteristics as per your needs
Multiple Catalogs
With multi catalogue support, add as many products in multiple categories and of multiple brands.
Multiple Languages
OKOMMERCE supports multiple languages so you can choose any language that you prefer
Multiple Currencies
Get the competitive edge and experience global growth with multiple currencies. With OKOMMERCE, you can easily set up multiple currencies in your store.
Multiple Price Points
Product variants can exist simultaneously and you can enable multiple price points for them.
Multiple Shipments
Multiple shipment allows shipments to different recipients from a single customer order.
Build For Large Scale
Everything about OKOMMERCE is designed keeping large scale businesses in mind. OKOMMERCE is perfect if you have a large ecommerce store as there are separate modules for easy and efficient management. If you plan on expanding your business in the future, OKOMMERCE has got you covered too. Thanks to the easy scalability offered, expanding your business should be a piece of effortless and seamless.
Performance is the name of the game with OKOMMERCE. With us, your store will be fast, performance optimized that will have no issue handling heavy traffic and concurrent users. With OKOMMERCE, you will also get customer segmentation and personalization options, which is a must for any large scale ecommerce business. The powerful admin panel gives you complete control over your business, at all times.
Security and Encryption
Security
We don't compromise when it comes to security. Your data is 100% secure with OKOMMERCE. You can be at ease knowing your store is safe and secure with us at all times. OKOMMERCE offers multi-layer security, so focus on making those sales and let us handle the safety and monitoring.
Encryption
OKOMMERCE encrypts all important data tables of your ecommerce site in 256 bit encryption technologies. Like customer information, payment information, purchase history, and other valuable information are encrypted. So it improves your data security.
Subscribe to our newsletter for latest news
Newsletter