Okommerce Cloud
Cloud based eCommerce is the present and the future. OKOMMERCE is at the forefront of it by providing cloud based solutions over traditional software installed on local servers. Enjoy reduced maintenance costs and low complexity with OKOMMERCE cloud. Take your ecommerce business to the next level with the secure, fast, reliable, scalable cloud platform today.
Cloud Server Architecture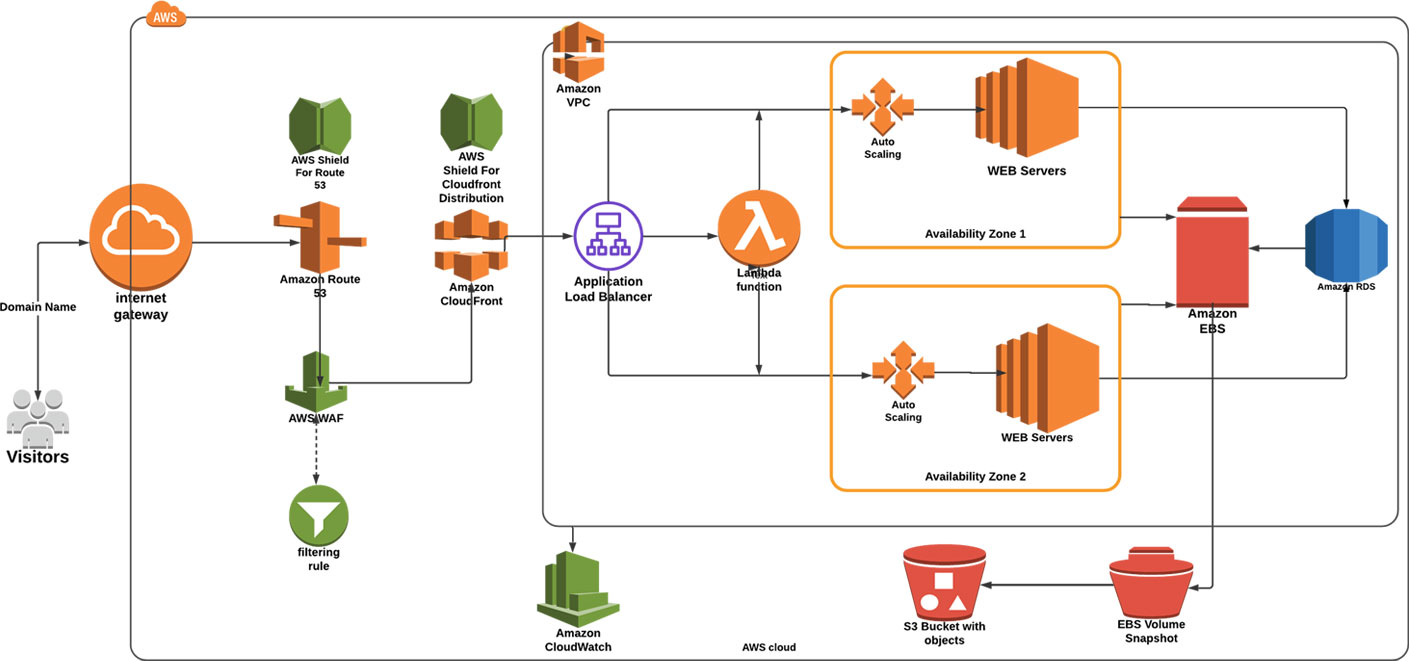 This is a visual representation of the cloud architecture implemented by OKOMMERCE cloud. Every component of the architecture is added to ensure fast loading times, secure backup of data, scalability, and constant monitoring.
Cloud Based Ecommerce Solutions - Okommerce Cloud
OKOMMERCE cloud is loaded with all kinds of features that will make your ecommerce website blazingly fast and secure. You will get automated backups, high availability options, reliable protection round the clock, auto-scaling features, consistent performance, reduced GTM times, and many other salient features which we are excited to offer you.
With eCommerce, comes the added challenge of occasional and variable traffic spikes. Traditional hosting methods are not at all optimized for this challenge but OKOMMERCE cloud does this without any issues thanks to the elastic nature of the workload handling which can scale up and down as per the load demand. OKOMMERCE cloud is also supportive of your business growth through auto-scaling so you won't need any additional investment in physical infrastructure and hire additional manpower for maintenance. With OKOMMERCE cloud, you don't have to worry about managing the system as it will be done by us completely. You will get the latest stable version at all times with a maximum load time of only 6 seconds and 99.99% uptime.
Worried about data backup? Leave that to us as we take care of it and you can focus on growing and expanding your business. OKOMMERCE cloud is also cost effective as you are only paying for the traffic that you get and not a fixed amount. Pay for the resources only when you need them. With eCommerce, there are no boundaries. The customer base is global and hence there is a need to make your business accessible to all easily. OKOMMERCE does this easily through a remote network of servers that deliver content dynamically based on their geographical location. All of the features of OKOMMERCE cloud makes it one of the best ecommerce cloud solutions for large scale enterprises.
Request For Pricing
Fill in the form below and we will get in touch with you and conduct a meeting where we understand your requirements and quote you the appropriate pricing plan that works best for you.