Content Marketing Strategies for Ecommerce Websites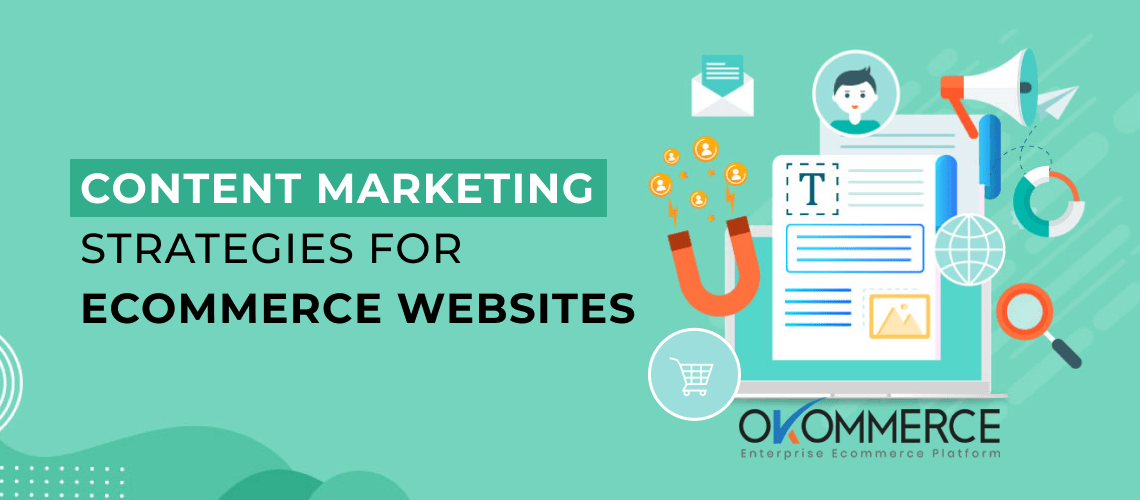 The general definition of content marketing is creating content in different formats, like written articles, tutorial videos, infographics, and sharing that content with targeted audiences to generate more leads  and attract more customers to your website. It is a type of inbound marketing that aims to attract customers from online sources that are already looking for information, such as search engines, video discovery sites, social media networks, and other online sources. Content marketing can easily generate interest in your goods and services. Your audience won't sense that you're attempting to sell them something, whether it's a lengthy piece of quality content, a standout video, or something else. Instead, if you follow all the appropriate steps, people will think you are worth their time. And what you provide will also be advantageous.
Ecommerce content marketing is a part of digital marketing. Before we get into detail about eCommerce marketing, let's first talk about how it benefits e-commerce companies. Traffic to your store can be freely attracted by effective content. And it will be qualified traffic, which means only those who are really interested in your items and related topics are visiting your website.
A typical customer journey looks like this. People look for topics of interest on search engines. They come across your blog post, video, or other format and interact with it. They start following what you do or return later when they require similar information. Eventually, they learn about your products and transfer a positive attitude to your brand. Another strategy for promoting your online store is through eCommerce content marketing. It's cheaper than running ads or working with influencers since it typically relies on SEO and organic search media presence. 
The main emphasis of an effective eCommerce content marketing strategy focuses on the needs of your target audience and their concerns, challenges, and inquiries. Your priority should be creating appealing content to satisfy their needs( in formats they like and on channels they use). Your business goals will influence the kind of content you create. It can be an ebook, downloadable guide, social media post, blog post, guest post, etc.
A consistent eCommerce content strategy reduces confusion, maintains a brand aligned with its target audience, and adds value over time. Without it, your messaging will be ineffective and contradictory, you will be talking into a void with no tangible results to show for it. Let's explore some of the best strategies that should be leveraged for effective e-commerce content marketing.
Create Original and Useful Content that Converts

Your website's content must be compelling to your target audiences to generate conversions. Emphasis on providing your brand with a unique place that stands out from the competition. Google receives billions of queries per day. Therefore, consider how difficult it will be for you to reach the top of the search engine results page (SERP) when someone searches for a term related to your company. Google appreciates unique material. That's why if you want Google to give your content a high ranking, You must create easily readable and helpful content for your target audience. Search engines still need to sort through the various types of content that are available online, so letting them know that the content you provide is user-friendly can be helpful. It will benefit you as well. When you create original content, you show search engines that you are doing something worthwhile. Then as a reward, you will get a better position on SERP.
Storytelling Blog Posts

Everyone enjoys a good story, right? An easy approach to get people's attention is through storytelling. You can find people coming to your website for additional updates if you can engage your eCommerce business clients with stories that inspire them or with stories they can relate to. Audience engagement can be easily accessed by giving them a deep understanding of your brand's DNA. Inform them about your company's founders, accomplishments, values, and culture to create an emotional connection with your audience. You can also share client testimonials that reflect the difficulties or challenges they overcame with the help of your products if you are wondering what I should write in a story. Well, it can be anything that is associated with you or your company. your personal life story, your struggle, why you decided to start this company, or anything else you think is relevant can be included. Always keep in mind to refrain from writing content for the sake of publishing. Create content that will benefit readers. Make your blogs humorous and informative, and try to use simple words so that anyone can easily read and understand the content. 
Social Media Presence

One of your primary objectives for an eCommerce website is to sell things and generate as much revenue as possible. And to achieve this, you must increase your visibility and accessibility to a wider audience. Social media is the best way to reach a huge number of people. It enables you to interact with your customers, generates leads, nurture those leads, and ultimately convert them into potential customers.  Social networking sites allow you to share nearly any type of content for your online store. Whether it's an image of your new product line, a quick video showing how it's made, a link to the press release announcing the introduction of your new collection, or others, through social media, you will get an idea about changing trends and demands of people. This is the place that will give you an idea about what you need to write and where you will get the maximum traffic.   Therefore, it is now evident to you how important these platforms are for your store.
Search Engine Optimization

Your goal is to appear as frequently as possible when customers search for products similar to what your business offers. And for that, you must use Search engine optimization. You'll benefit from three things if you optimize your content for the real search terms people use on the various search engines.
• Drive  in more visitors to your website 
• Help  you in boosting conversion 
• Enhance your company's credibility 
Therefore, it should be clear that one of the greatest eCommerce content marketing strategies for you is to optimize your content. The more optimized your content is, the more likely it is that people will find you when searching. That being said, you should strive to use different keywords without going overboard or being too obvious.  Google does not support this kind of content. Instead, be delicate and place your keywords as naturally as possible without compromising the quality of your content. Along with your visible content, your product feeds must also be improved. Product feeds are submitted to Google Merchant Center with all the essential information about your products so they can be shown as advertisements on various marketing channels.
Influencer Marketing Content

Influencer marketing is undoubtedly one of the most effective marketing strategies for an eCommerce business today. The content made by the influencers on your products and your business significantly influences the buyers. First of all, the influencers have an extremely solid follower base. So, when they mention you, you reach many people effortlessly and very quickly. And secondly, the influencers are people who generally viewers believe without question. They are usually very loyal to their favorite influencers, so everything the influencers do, they follow that too and also try to use the products they are using. Influencers can represent your eCommerce business in this manner.
Consider choosing content that will benefit your company if you create an influencer campaign. Choose content that highlights your products and their unique qualities. You can hire influencers to create this content, and occasionally influencers will create content based on materials they have already used for their own personal content. It will be an added benefit if an influencer features your company in this way.
On Your Site, Use Social Proof

Reviews and ratings from your present customer base serve as social proof, which is an important trust signal. Their feedback on your product quality, shipping times, returns, refunds, and other issues might help to prove that your website and goods are genuine.  Customer success stories about your products can also inspire new buyers. You could Interview the customers who have shared positive feedback and use their testimonies to make eye-catching visuals and interactive videos for your site. These types of content are highly engaging and tend to perform better than text. Working with well-known guest bloggers in your niche and getting them to offer honest product reviews is another way to take advantage of guest posting. Just make sure that the guest bloggers you choose have a solid reputation for being sincere and unbiased.
Optimize the Appearance of the eCommerce Website

To differentiate your physical business from the competition, you must work hard. You'll establish a comprehensive identity that includes everything from your name and logo to the way you interact with your clients. Customers will find you if you did your research and developed a quality image same things work for an eCommerce website, only the way of doing it will differ. The more appealing they look more likely they will stay. Look at the elements that will help increase the visual identity. 
Typography. Your brand's identity can be strongly conveyed through the fonts you choose in your designs. Ensure the fonts you select for your e-commerce brand match the message you are trying to send. Even before website visitors begin reading the material, using an appropriate font will establish the tone of your communication.
Brand voice. The voice you use with your customers will depend on the theme of your specific e-commerce brand. Maintaining a consistent tone throughout your website content and other communication forms you use with your audience is crucial. The right tone will make it easier for people to recognize your brand and connect with your brand messaging.
Color palette. People have strong connections with colors. Therefore, the color scheme you select can effectively induce particular emotions and behaviors from your audience. While black and gray are excellent choices for electronics stores, pastel, bright colors are connected with natural cosmetics.
Form/shape. Your audience will receive a distinct message from a sharp, angular logo than from a softer-shaped logo. Different shapes can help to create an emotional and psychological bond between your store and your consumers. You should get familiar with the meaning that each shape may convey about your brand and how to use it on your website.
Wrapping Up
If you are an eCommerce business owner, you must invest in various items to keep your operation profitable.  Content marketing is something that will take less amount of investment but will bring the best outcome. Your business will start booming in no time if you can effectively strategize your content marketing plan.
Okommerce is a feature-rich & leading enterprise e-commerce platform. If you own a large-scale business or are planning to expand your business, Commerce can help you with great enterprise ecommerce solutions. Employ this platform to operate your e-commerce business properly. If you are looking for a reliable, secure, and budget-friendly eCommerce platform, get Okommerce today