11 Proven Ways to Minimize Customer Complaints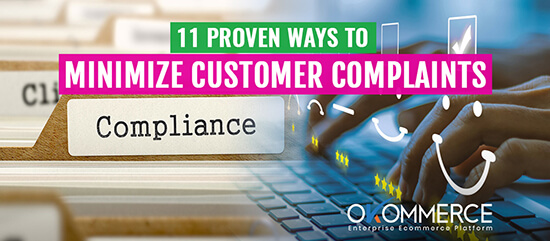 Even if you run your ecommerce business following best practices, it's impossible to achieve 100% customer satisfaction. No matter how hard you try to do everything from fulfillment to delivery perfectly, there will always be a few customer complaints. But it would help if you strived to reduce the number of complaints to zero. Focus on building a competent team that can stop customer complaints even before they happen. That's not possible. At least you can make all-out efforts to avoid customer complaints as much as possible. 
Maintain Clear Communications

Most complaints derive from misunderstandings between the customer and the brand. Therefore, it's important to inform your customers clearly about the prices, sizes, availability, estimated delivery time, transparent shipping costs, product specifications, and more. Keep the information lucid and avoid miscommunication as much as you can. Explicit information about all those product-related factors can minimize customer complaints to a great degree. 
Keep Your Promises

Don't make promises that you can't keep. Keep your product pages well-equipped with necessary information and images so that customers know what to expect from you. Describe the key features of your products explicitly, display original pictures of products, and offer the prices without any hidden charge. Inform them about the probable delivery date beforehand so that they don't have to ask, "Where's my product?"
Inform Customers about Shipping Issues

A particular product may take longer than expected to reach your customer, and it may get lost midway. Track your shipment process to know if there are any such issues. Immediately communicate with the respective customers and let them know you're trying your best to make things right. You can offer a refund or resend the product with minimum shipping charges. Keeping the customer updated about the delay whenever you see a product is likely to take more time to reach its destination. 
Check for Inventory Problems

Integrate an effective inventory management system to your business capable of predicting sales and informing about the shortage of an item ahead of time. Replenish your inventory before it gets out of stock. After completing the checkout process, buyers will get upset if they know that you don't have their products in stock. Keep track of your stock availability regularly to avoid these kinds of customer complaints. 
Make the Best Use of Feedback
Without listening to your customers, you wouldn't know what they expect from you regarding product quality and customer service. Getting feedback from real customers is an excellent way to improve customer experiences. Introduce feedback receiving channels and accumulate as much user data as possible. Then, analyze the feedback and take necessary actions to reduce customer complaints. 
Audit Your Website Regularly
There might be several different issues related to web development and design. Check your website regularly for issues. Ensure that the UI and UX design elements are properly integrated to produce a bug-free website and a smooth checkout process. Customers shouldn't face any issue, big or small, throughout the checkout process. 
Integrate New Communication Channels
Don't limit your presence to merely a website. Create a business page or profile on all popular social media platforms, including Facebook, Twitter, Instagram, Linked In, YouTube, and more. Make sure that people can communicate with you through every available channel. Besides, add a 'Contact Us' page containing updated contact details of your company. You can integrate a live chat option, introduce a hotline number, and provide 24/7 customer support to ensure seamless customer service. Prospective customers should have all communication channels at their disposal to contact you when needed. 
Conduct Training for Your Staff

The customer is always right. But an ill-tempered employee may lose his cool if a customer irrationally argues over trivial matters. As a business representative, one should never argue with customers; rather, he should master the art of explaining critical things in simple language. Talk to your customers with respect and try your best to maintain a positive attitude. Your staff will gain this professional attitude only if they get proper training, addressing customer service and management skills. 
Keep Record of the Complaints
Lodge all complaints in a secure place for future reference. Keep a record of the support you will be provided so that you can evaluate both your employees' performance and the effectiveness of complaints handling. Moreover, this data is also important to determine the customer complaint trends and prepare for similar issues in the future. 
Solve Customers' Problem and Follow Up

After trying so hard to avoid customer complaints, you may end up receiving a lot of them. So, prepare yourself to solve all the problems efficiently. First, try to understand the issue minutely, then provide a solution promptly if you already know what to do. Take your time if you're unaware of this particular problem, and promise the customer that you're getting back to him soon with a solution. Always try to minimize the hold time as much as possible. Don't forget to verify whether your solution is working or not and offer him further assistance. Even, it's better to follow up on each case after a few days of complaint handling. 
Rehearse Probable Situations Beforehand
It may come as a surprise if you get exposed to an issue all of a sudden without any prior knowledge. Most of the time, we can't react properly to a critical situation if we don't get enough time to think about it. The same thing goes with managing customer complaints. It becomes way easier to address customer complaints if you know what to do beforehand. You can predict probable issues ahead of time and create well-thought solutions to solve all these problems. Imagine as many situations as you can and prepare a guideline to tackle all of them professionally without harming the reputation of your business.
Okommerce, an enterprise ecommerce platform that is designed to serve the needs of large-scale enterprises. If you are looking for a reliable, secure, and budget-friendly ecommerce platform, get Okommerce today.