What Are The Popular Ecommerce Platforms Available In The Market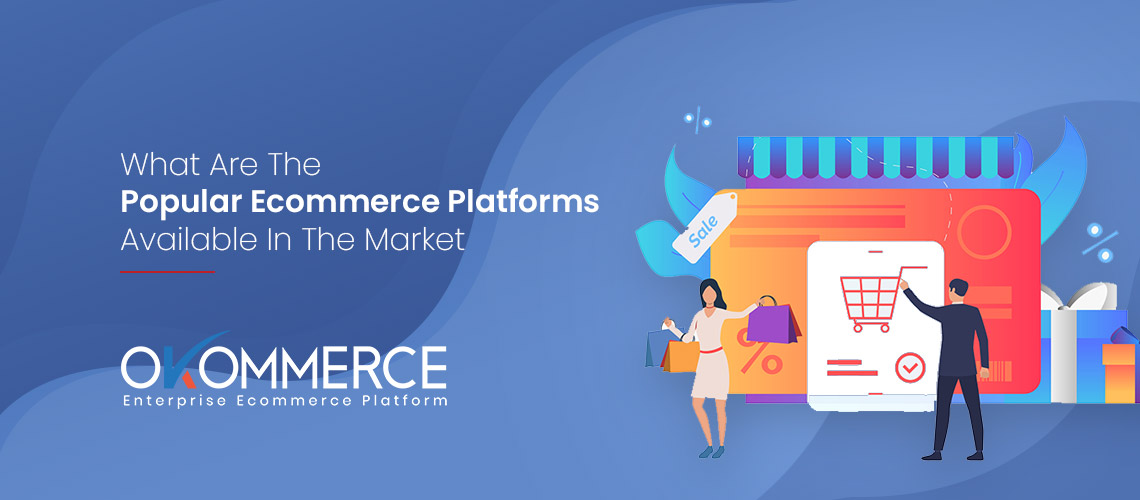 Ecommerce business and sales are rising exponentially. Revenues are projected to hit $4.9 trillion in 2021 according to Shopify; a leap of about $2.1 trillion relative to 2018 sales. There are ecommerce platforms behind many of these ecommerce stores that perform the heavy lifting, helping companies to handle their website as well as sales.
So what are the popular ecommerce platforms that are currently available in the market? In this article, we will take a look at some of the popular ecommerce platforms that are widely used all over the globe.

What is an eCommerce platform?
An ecommerce platform is a tool that helps you to quickly build, customize and host usable online stores, create, sell and promote items, manage inventory, accept and process payment, offer deals and monitor delivery in real time, and much more. In exchange, the users pay subscription fees to
the platform.
There are certain benefits to using an ecommerce platform. Firstly, ecommerce platforms save you time and allow you to focus more on the company's marketing and sales side. They allow you to develop, configure, and launch online stores and start selling right away, rather than wasting a massive amount of time coding, creating websites and online stores, and managing web hosting and servers.
Platforms for ecommerce are often quite secure, and have little to no downtime. Moreover, you would now be able to provide smooth payment and delivery integration with your clients along with excellent customer support.

Popular eCommerce platforms in the market
In this section, we will talk about six of the most popular eCommerce platforms in the market. They are widely used by eCommerce business owners all over the world for the features that they provide.

Magento
Magento is a highly scalable and reliable ecommerce platform where iconic brands such as Nike and Cisco use it for their website. Magento provides specialized features including order processing and customer support , product tracking, market analytics, and cloud integration, in addition to website creator, content planning, merchandising, and quick buy.
The platform is filled with lots of features, a wide community of committed users and specialists and a vibrant marketplace. Another big advantage is the simplicity of hosting the software wherever you want. For those with web development experience, Magento is best suited but its themes can be pricey too.


Salesforce Commerce
Salesforce Commerce Cloud, previously known as DemandWare, is an enterprise-level ecommerce platform that provides a wide variety of functionality and technologies that render it an ideal choice for large international businesses that handle millions of dollars in orders.
Salesforce Commerce Cloud is the perfect ecommerce application for enterprises with complicated specifications. It's a complex yet extremely versatile framework with enough customizations to support almost every market use, be it B2B or B2C. Commerce Platform, as a Salesforce product, benefits from integrations with any other Salesforce product.
Salesforce Commerce Support cloud as an enterprise-level ecommerce system provides simplicity and scope that most other solutions can not equal. That carries with it a rather steep learning curve that is better managed by seasoned programmers, hiring consultants, or developers in Salesforce.


OpenCart
The ecommerce platform OpenCart offers everything you need to build and run your online shop. OpenCart powers more than 350,000 ecommerce sites around the globe
OpenCart is not a website builder. It's an open-source platform that you can use and add features for ecommerce on your website.
One of the reasons people prefer OpenCart is that the admin dashboard allows it easier for you to use a single and quick interface to manage anything.
OpenCart's biggest asset is its marketplace. It contains over 13,000 plugins, themes, and extensions. But if you want to integrate anything into your ecommerce shop, it's accessible on the OpenCart marketplace majority of the time
Is OpenCart free? Downloading and installing into the website is completely free. There are no monthly or annual payments for using this app at any time.
You'll have to pay for using those extensions, however. But if you operate a basic ecommerce website and don't need a ton of premium plugins, then OpenCart is a perfect way to hold down the costs.


SAP Commerce
The SAP Commerce Cloud (formerly SAP Hybris Commerce) is an omnichannel network for B2B , B2C and B2B2C companies built to connect and interact with the clients through digital and physical touchpoints. It involves, along with SAP Marketing Cloud, SAP Distribution Cloud, SAP Operation Cloud, and SAP Consumer Data Platform applications, an essential publicity, logistics, and customer experience management framework.
Owing to the technological shift in consumer goods from private systems to the cloud, the latest term for SAP Hybris Commerce is the SAP Commerce Cloud. As a result , the new edition is now accessible on Microsoft Azure, which utilizes open-source Kubernetes technology.
Of course, you can also host the platform, but as the data indicates, as of today, the cloud is the most realistic choice for big enterprises.


Shopify
Launched in 2004 , Shopify is already the market 's largest ecommerce platform with more than 1 million companies spanning 175 nations. Retailers at Shopify include a variety of sizes and sectors.
Shopify is one of the best ecommerce platforms for newcomers and small-medium-sized companies who need help setting up their shop. The framework already integrates everything you need: from website design to content management to performance analytics. When you've set up the infrastructure, updating the store with third-party plugins – or even modifying the shop code itself – is a straightforward matter.
Shopify is a breeze to understand due to its elegant interface and support for creating codeless shops. And if you're still trapped there are lots of tools accessible to assist provide assistance. Basic users can choose or build one themselves from a broad range of pre-existing design templates.
Advanced customers will have enough to be excited about, as Shopify still offers complete developer access. There are a wide range of individual developers' add-ons and enhancements available which will expand the store's capabilities. All this allows the difference between small and big online retailers convenient for Shopify.


Okommerce
OKOMMERCE is a fully fledged enterprise level ecommerce platform that is designed to serve the intricate and massive needs of large scale enterprises. OKOMMERCE is catered for large scale businesses. Every feature and functionality in OKOMMERCE is carefully created to serve the ever growing needs of an enterprise.

With its intuitive and easy-to-use interface, OKOMMERCE allows efficient management of your ecommerce with minimal manpower. OKOMMERCE is all about productivity and efficiency. In a nutshell, the possibilities with OKOMMERCE are limitless. Seamless integration of APIs, a comprehensive and powerful admin panel and a fully customizable front end with a website and separate mobile apps for customers, suppliers, delivery agents, and store.
OKOMMERCE is API driven which means you can integrate any API that you need. Whether it be a payment gateway, or third party softwares such as accounting softwares, ERP, or even warehouse management, OKOMMERCE has got you covered.
Run your Ecommerce platform with minimal internal management as the API integration takes care of the complex implementations.