9 Proven Ways to Develop Product Packaging & Delight Consumers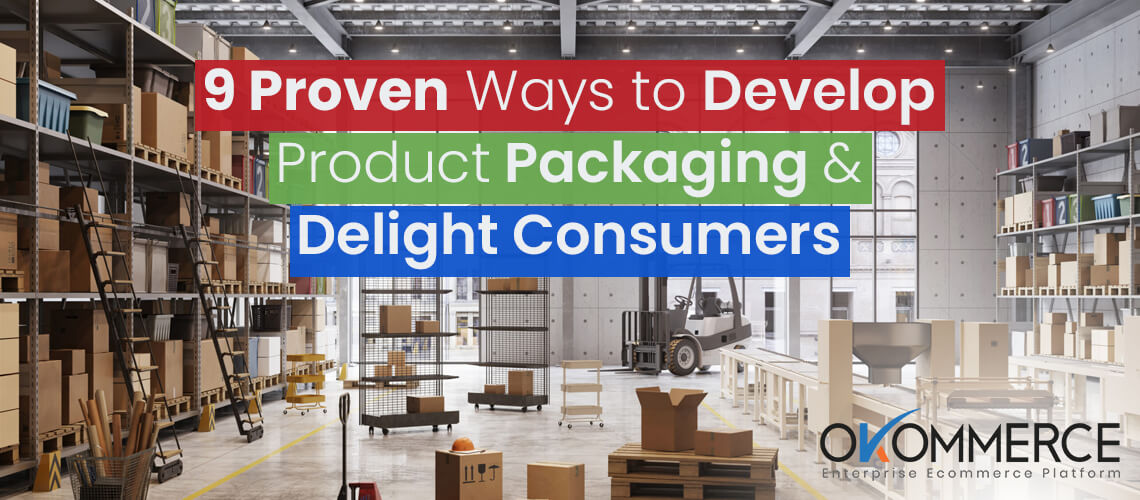 When people shop from a physical shop they mainly emphasize the quality of the products rather than other associated things like packaging quality and design. As online shoppers rely greatly on the home delivery process, they want to receive their products in packages that are of high quality and cool designs. As an ecommerce owner, you have to build a strong and long-lasting relationship with each customer. Well-planned packaging runs extra miles for ecommerce businesses in building brand value, impressing their customers, and attracting prospective buyers. Most top brands delight their customers with amazing unboxing memories. How? Keep reading to know the art that turns your product packaging into a game-changer, increases your brand value, and generates more sales. 
What is Product Packaging?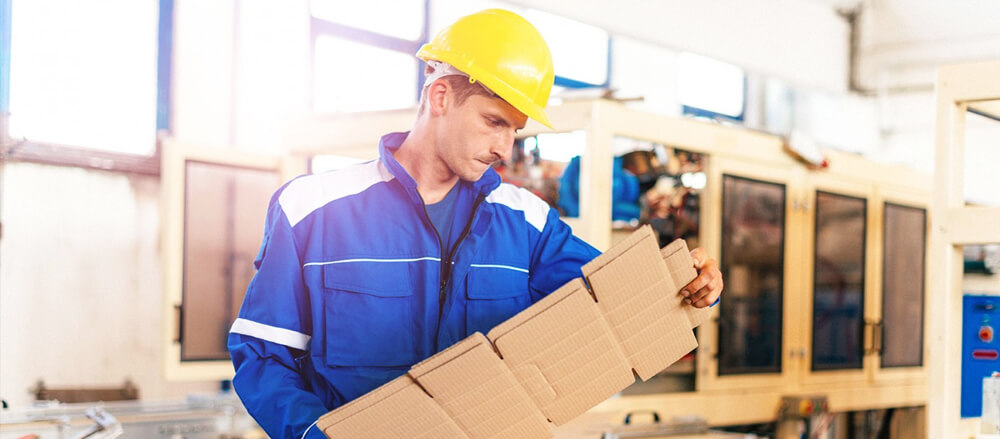 Product packaging in e-commerce refers to the design, quality, copywriting, branding, and marketing activities related to the production of containers that carry the products throughout the whole shipping process. A good number of online retailers are already providing branded packages to delight their customers with a memorable unboxing experience. Such ecommerce packaging adds value to your brands, creates positive first impressions, and encourages customers to buy again from you. 
Major Types of Ecommerce Product Packaging
Choosing the right kind of packaging materials is very crucial to delivering the products successfully without causing any harm to them. Pick the right options to ensure safe transportation and ship intact products to the consumers. Some of the most used ecommerce packages are as follows. 
Corrugated Boxes
These packaging materials are the most popular form of ecommerce packaging because they are lightweight and sturdy at the same time. Double layers of corrugated papers can even provide perfect protection for heavier items. 
Protection Layers
Some packages call for padded protection layers to save the products from getting damaged. Small, flat, and delicate products like electronic gadgets, jewelry, miniatures, handcrafted items, and books. Bubble wrap and recyclable papers are two of the most used materials in padded packaging. 
Envelopes and Bags
Polybags, envelopes, and paper bags can also be used for ecommerce packaging. If you sell non-fragile and light products, bags or envelopes are the best packages to use. Some bags are self-sealing which makes them a convenient option for product packaging. 
Customized Packaging
There is no limit to creating customized packaging. You can introduce any type of packaging you want but make sure that you're still making enough money to run your business smoothly with substantial profits. Custom ecommerce packages are the most effective ways to delight your customers with a memorable unboxing experience. You can imprint your brand identity throughout the packages, tissues, gift wraps, packing slips, greetings cards, and more. 
Why You Need to Consider Product Packaging in Ecommerce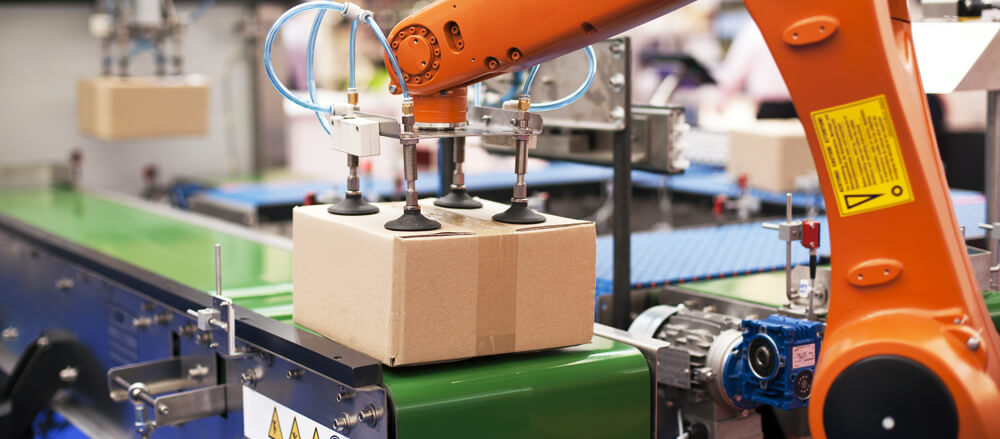 Some people consider packaging only as a protecting layer of the products, whereas it has great marketing potential. It's high time to make the best use of such marketing opportunities and use attractive and creative product packaging to increase brand awareness, improve customer loyalty and experience, and achieve other ecommerce business goals.
Moreover, physical stores can serve and impress customers in many ways, while you have only a few means to show how much you care for your customers. Packaging is a great way to flaunt your sincerity, care, and feeling for your customers. You can set yourself apart from your competitors by ensuring a pleasant unboxing experience for your customers. According to stats, 40% of online shoppers return to an online store with premium packaging for more purchases. Repeat customers are valuable assets for online stores. If you pay more attention to product packaging, consequently it will help you retain customers, build long-term relationships with them, and eventually generate more revenue. 
How to Develop Product Packaging to Delight the Consumers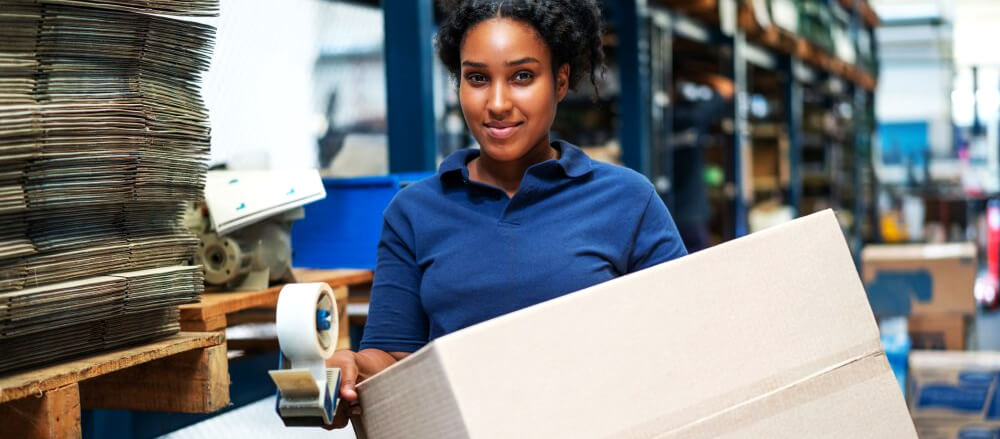 Before digging deeper into the package design process, you need to understand what you are selling, who your customers are, and what messages you want to communicate to them via your ecommerce packages. After understanding these factors you can move to further steps to creating excellent packages and providing great experiences to your customers. 
1. Understand Your Packaging Needs

The sizes and types of your products play an important role in determining the types of packaging. A large item with peculiar dimensions will require different packaging compared to light and evenly sized products. So, the shapes, sizes, and weights of the products are crucial factors that affect packaging. 
Who is your target audience? If you know the demographics of your audience, it will be easier to find out what they expect from you. For example, girls may like pink color packaging while most boys may find it a bit inappropriate. The likings and dislikings of different age groups also differ from each other. You need to craft such packaging that will appeal to the end product users. 
What do you want your customers to think about your brand? Do you have an eco-friendly theme? Then you need to avoid plastic materials entirely. If you already have an identity of a luxury brand, you need to design gorgeous packaging associated with high-quality prints. If you want to create a hand-crafted vibe, the design would be simple, tidy, and natural-looking. 
2. Choose the Right Container

The packaging box is the first thing customers see when they receive a product from delivery men. You need to choose it wisely to hit them with a great first impression. Online shoppers usually like branded boxes that are aesthetically pleasing. You can integrate your logo, brand slogan, specific color palette, text fonts, and other branding elements into the packaging so that the overall design aligns with your brand identity. 
3. Use Branded Packaging Tape 

You need to use a lot of packing tapes to seal and confine the products inside the package. Branded packaging tape can play a great role in creating brand awareness. People will easily recognize your business simply by looking at your package. 
4. Consider the Inner Part of the Box

Online shoppers love surprises. If you do everything for the outer surface of your box, they'll not have a memorable unboxing experience for sure. Printed or painted designs inside of the box can delight them with a lovely surprise. But don't forget to keep the text fonts, copies, and designs relevant to both your products and brand. Don't go overboard with the design. 
5. Insert Interesting Infills/Crinkle Paper

Most brands use infills that have no meaning. Infills are necessary to add extra protection to your products. But you can use them to promote your brand. You can also use crinkle paper if that goes well with your brand. These infills are trivial things but they will help you have a complete branded unveiling experience. 
6. Use Branded Tissue Paper 

Brand logo, name, slogan, or other signature illustrations can help greatly to increase the brand value of an ecommerce store. Print such unique things on customized tissue papers and use these to wrap your products while keeping them inside the box. Customers will be impressed if they see you considered every detail of packaging during the packaging process. 
7. Offer Incentives 

Everyone likes to get something more. Offer free samples, discount coupons, or referral codes for your customers to induce them to make future purchases. This will help you in two-fold ways. These incentives make the customers happy at the same time facilitates future conversions from the same customers. 
8. Write a "Thank You" Note

No matter how big or small a business is, it depends on the customers to run its operations. You should thank your customers as they help you grow bigger each day. Handwritten notes work better in this regard, creating a more personal connection. You can address the customer by name to make them feel valued. This gratitude note should be in line with your brand voice, mission, and vision. If written correctly, this note can contribute to providing memorable unboxing experiences for the customers. 
9. Introduce Your Marketing Channels

Social and video sharing media like Facebook, Instagram, YouTube, TikTok, etc. are a few marketing channels that drive traffic to your website and generate sales. You can insert such marketing materials into the package to encourage the customers to visit your online marketing channels. Even you can run a contest on uploading Unboxing Videos and sharing their experiences on social media and inform the customers about it using the packaging. 
All these efforts made to ensure a memorable unboxing experience will be fruitful only if you can provide the customers with a seamless user experience. Choose a high-quality ecommerce platform to run your online stores smoothly. Okommerce is ideal as an enterprise ecommerce platform. If you own a large-scale business or are planning to expand your business, Okommerce can help you with amazing enterprise ecommerce solutions. Employ this platform to operate your ecommerce business properly and make the best out of your ecommerce product packaging.